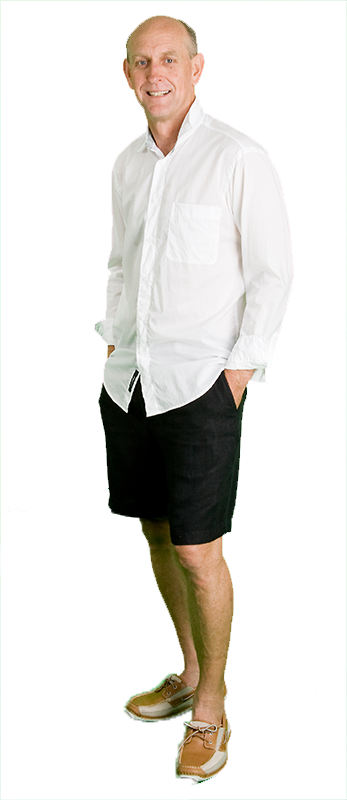 Since I was a young lad growing up in South East Queensland, I've been Passionate about sport all my life.
Earlier in my career it was Squash and Touch Football, these days its Surfing and Golf.
However my major passion today is about Health and Wellness.
It was a major decision as to why I decided to become a Health Professional.
Helping people change from ill – health to Ultimate Health.
I believe being Preventative with health is the KEY.
Nearly 30 years later and over 100,000 consultations I am still just as passionate as when I first fell in love with the Health and Wellness industry.
Today I am just as passionate about seeing a client move from ill-health challenges to a new blueprint of health regeneration.
Especially if you are looking for . . .
How to Find the cause or causes of your Pain.
How to Lose Unwanted Fat
How to Improve your Energy Levels
How to Help your Digestive Challenges – From Irritable Bowel Syndrome, Reflux, Bloating , Constipation or Diarrhea.
Relieve Emotional turmoil from Depression, Anxiety or Panic Attacks.
At Unique Health and Wellness these principles and core values are at the heart and soul of who we are.
Our Centre offers in depth and specific treatments which are unique and individual for each client.
Wayne's personal passion is seeing his client's health, happiness and vitality unfold so they are able to fulfill their health and wellness dreams and achieve whatever they desire in life.
At Unique Health and Wellness we will help facilitate change in your Health and Wellbeing by optimising natural therapies, state of the art diagnostic testing and education.
We would like to share your commitment to your health, your journey to wellness and to unlocking the Ultimate Blue Print For Your Health.
For those who would like to know . . .
Wayne first graduated with a Bachelor of Traditional Acupuncture in 1988.
Wayne then continued his studies and completed the following . . .
Doctor and Fellow of Acupuncture (Dr of Chinese Medicine)
Naturopathy
Diploma of Herbal Medicine
Registered in Blood Pathology or Blood Profiling
Certified Genetic Profile Health Professional
Certified N.E.T. Practitioner
Certified PSYCH – K Practitioner
Certificate in Massage Therapies and Myofacial Release techniques including Bowen.
Here are . . .
The 7 Most Important Insights You Should Know About  Dr Wayne Pickstone (Dr of Chinese Medicine)
Wayne believes . . . "In the near future, health will be more sort after than gold, real estate, shares or anything material" and because of this, his passion is to help as many people as he can to achieve Optimal Health and Wellbeing is his Ultimate Goal.
Since 1988 Wayne has seen over 100,000 consultations helping them to improve their lives. Wayne is also a mentor to other Wellness professionals including Medical Doctors, Oncologists, Osteopaths, Biochemists, Pharmacists, Dentists, Naturopaths and Chiropractors helping them to improve their own health issues.
Wayne is also a Certified Life Coach and Business Coach allowing him to guide clients in life transforming sessions for professional, personal and business development.
Wayne has traveled extensively overseas studying different forms of alternative medicine. He has visited the United States many times and in 1996 he studied with Charlotte Gerson at the Gerson Institute in San Diego. Wayne has also traveled to India and South Africa. Wayne studied in Medical/Ayurveda Clinics in South Africa broadening his clinical knowledge in Ayurvedic medicine and massage.
Wayne designs and conducts seminars in Life Coaching, Ayurveda and Wellness, along with a combination of the Mind and Body System. This encourages great personal and professional development for the attendee.
Finding people's gifts, talents, the 'Genius' within and releasing the internal saboteur that may be holding one back from realising their dreams, is one of Wayne's specialties, so that each person has a better chance of achieving their ultimate ambitions in life.
Wayne enjoys being a family man and with his lovely wife Karon, have four children, two girls, Elyse and Brianna and two boys Matt and Josh.