Make a Meal of Bone Broth 
In our last post we spoke about the benefits of bone broth.
If you missed it please click here…
Now it's time for some recipes.
But first let's recap last weeks blog . . . and go over some of the benefits of bone broth.
Bone broth is one of the most nutrient-rich foods on the planet.
The low, slow-cooking of the bones of cattle, poultry and fish draws out the collagen, bone-marrow and other healing elements from the bones, such as vitamins, minerals, gelatin and proteins in the form of amino acids, such as glycine, glucosamine and proline.
These powerful nutrients have the function of maintaining healthy joints, bones, teeth, skin, hair, digestive tract, and may also protect against many diseases such as osteoarthritis, rheumatoid arthritis, Crohn's Disease, Irritable Bowel Syndrome, Leaky Gut Syndrome and even cancer. [1]
Any kind of broth is nutritious, but broth made with marrow bones is especially beneficial because you get all the nutrients from the marrow as well as from the bones themselves, such as unsaturated fats and extra vitamins and minerals.
Marrow is what the predetors really go after when they're tearing through the bones of their prey. [2]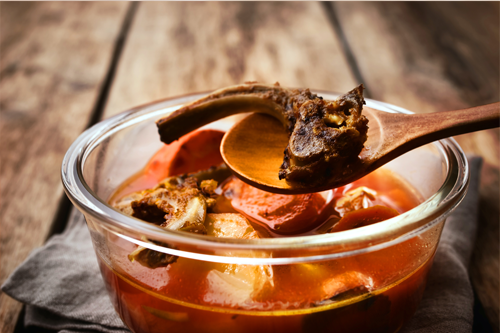 How It's Done
When choosing bones for broth, opt for high quality bones from organically-raised cows, bison, turkey, chicken or fish.
Organic Healthy animals give healthy bones and a healthy broth.
Ask your regular butcher or farmer about these, or save bones from your roasted organic joints or chickens.
As with all foods, it's best to make soups yourself rather than buy tinned or powdered versions.
Unlike real bone broth, these are packed with sodium, preservatives, corn starch, wheat, artificial flavors, MSG, sugar, and none of the things that make real homemade soup nourishing. [3]
If you are going to buy it ready-made, do your research and find a reputable organic farm that produces additive-free bone broth from organically-raised animals.
Basically, all bone broth recipes start out the same way.
They are made by simmering the bones of the animal for 10 – 24 hours in a slow-cooker, or 24 – 48 hours for beef bones.
Once you have the basic broth, you can either consume it as it is, or use it in many different recipes from fancy soups to sauces and even desserts.
Basic Bone Broth Recipe
Ingredients:
1 Kg of healthy organic bones
Filtered water
3 tablespoons of apple cider vinegar
1 onion
2 carrots
2 celery sticks
Optional: 1 bunch of parsley, 1 tablespoon or more of Pickling salt,
1 x teaspoon peppercorns, additional herbs or spices to taste. I also add 2 cloves of garlic for the last 30 minutes of cooking.
Optional: 1 or 2 chicken feet for extra gelatin
Method:
First roast the bones (unless cooked already). This enhances their flavour, but some recipes skip this part.

Cook for at least 40 minutes at 350 degrees in a roasting pan.

Place the bones, with the juices from the roating pan, in a large saucepan and add the filtered water so that the bones are well-covered.
Add the vinegar. The acidity of the vinegar helps to release the nutrients from the bones.
Leave for 30 minutes to let the bones reach the same temperature as the water.
Chop the vegetables and add to the pan with all the herbs and spices, except the parsley and garlic.
Turn on the heat and bring to the boil, and immediately reduce to a simmer.
During the first 2-3 hours of simmering, remove the 'scum', ie. the layer of frothy impurities, that rises to the surface of the water, using a large spoon every 30 minutes. The higher the quality of the bones, the less impurities there will be.
The boiling times are as follows:

beef bones- 48 hours
chicken / turkey bones- 24 hours
fish bones- 8 hours

 Add any parsley and garlic during the final hour of simmering.
 When cooking is over, allow to cool slightly and strain to remove any remaining vegetables and bones.
The broth can be refrigerated for upto a week, or frozen for later use. [1] [2] [4]
What Else Can You Do With Bone Broth?
So once you have your bone broth, you can use it to make absolutely any soup on earth.
Here is one to try:
Greek Egg and Lemon Chicken Soup
Boil 3/4 a cup of pudding rice in about 2 litres of chicken bone broth. In a large, heat-proof bowl, squeeze the juice of a lemon and a half, and beat the lemon together with 2 eggs. Gradually add some of the bone broth/rice mixture to the lemon/egg mixture, just enough for them to reach the same temperature, beating all the time.
Finally, pour the egg/lemon/broth mixture back into the saucepan, heat thoroughly on a low heat and serve.
Use pickling salt and pepper to taste.
You can also add small bits of chicken to what is the most nourishing, soothing soup ever!
Other ideas include noodle and meat soups with vegetables, lentil or chickpea soups, and even spicy Mexican soups with sweetcorn, peppers, chicken and mushrooms.
Would you like to find out more?
For those who are not members of the clinic, there are two ways you can respond. . .
     1. I would like to book in for your Free 20 Minute consultation 
online
to ask further questions on how you can help me . . . or I will phone you on 07 5474 5354
Until next time,
Yours in Health

Disclaimer: The information provided does not take into account individual needs of any particular person. When providing this information it is intended as a sharing of knowledge and information from the research. The information provided should not be construed as personal medical advice or instruction and is not intended to replace a one-on-one relationship with a qualified health care professional and is not intended as medical advice. We encourage you to make your own health care decisions based upon your research and in partnership with a qualified health care professional.
References:
1] fatburningman.com/how-to-make-bone-broth-to-heal-your-gut-reverse-aging-cure-the-common-col
3] wellnessmama.com/5888/how-to-make-bone-broth
2] paleoleap.com/eat-this-bone-broth/
4] bonappetit.com/test-kitchen/common-mistakes/article/common-mistakes-bone-broth